My past as a DBA probably makes me a bit biased, but the reaction I've seen the most when a database application isn't performing as well as would be liked seems to focus on the database side of things. The search for a solution usually seems to center around tuning db parameters, the building (or removal) of indexes and if the budget allows, throwing hardware at the problem. In their new work, Refactoring SQL Applications, Faroult and L'Hermite bring a much wider range of options to the table. There is a lot in this little book for the developer charged with fixing an existing application and I think a lot of good information that could save one from making a number of head-ache inducing mistakes on a new application.
FLURB is not new. Issue number 7 is now up. But it is new to me. What I've read so far is different, but good. The text is mixed with illustrations. You can check it out and it wont cost you more than bandwidth and time.
Random House seems to be hopping into the "give the first one away free" game. The Suvudu Free Book Library is your new place to pick up the first book from some of their Scifi/Fantasy series. I saw Red Mars over there – you can't go wrong with stuff that solid. Just be prepared to fork over the cash when you want to keep going, and with the line up they have it's a slim chance you wont want to.
What do you get when you team up an astronomer/sci-fi author and the National Science Foundation? An anthology of free Astronomy Science Fiction stories. There are 14 stories in the collection that has been edited by Mike Brotherton They say, "The purpose of the anthology is to provide stories with ample and accurate astronomy spanning a range of topics covered in introductory courses." and "Fans of science fiction with good science should also enjoy these stories."

Right now the stories are all available to read on-line. There is a download tab that promises "Downloadable versions of the anthology coming soon." I hope so, this kind of thing would be perfect to have on my phone.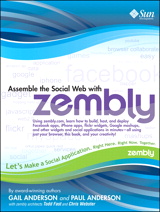 Web applications are all the rage. Web applications that function within the context of social networking sites doubly so. I think it is safe to say that pretty much anyone looking to garner a large audience on the web, for financial or any other reasons, has to be considering how they can reach people on sites like Facebook, or all those users out there accessing the web via their iPhones. Sun Microsystems has entered this arena by providing a set of web based development tools and a platform on which to host the resulting products that is now in beta and named Zembly. And while Zembly has not been open to the public for all that long, two of Zemblys architects with the help of two writers have published a new cookbook for the aspiring Zembly developer, Assemble the Social Web with Zembly.
This list was actually done the end of last year, but I just ran across it via a blog post I spotted on reddit. io9s top sci-fi books of 2008 This is a good list for anyone looking for some good reading. I'll list the books below, but it's worth hopping over there to read the comments and slivers from their reviews. One of them is by Doctorow. So you know what that means – you can read it as quickly as you can go to his site and download it. Another is by Tobias Buckell – which means I'll be reading that for sure. (It also reminds me I have never posted a review of his last book I read – gotta do that.) Anyway, here they are.

Liberation, by Brian Francis Slattery
Anathem, by Neal Stephenson
Nano Comes to Clifford Falls, by Nancy Kress
The Alchemy of Stone, by Ekaterina Sedia
Sly Mongoose, by Tobias Buckell
The Night Sessions, by Ken MacLeod
Postsingular, by Rudy Rucker
Little Brother, by Cory Doctorow
Matter, by Iain M. Banks
Hunger Games, by Suzanne Collins
Multireal, by David Louis Edelman
The geek world is dominated by those of the male persuasion. For those of us working in a technology related field, or who spend a considerable amount of time pursuing high tech leisure, we usually find women to be in the minority. I've seen considerable discussion over the years on how to change this imbalance but I think it is safe to say that right now that it remains. Many women are interested in using technology, they just don't want to dive in to quite the same depth. Or they may not be interested in the way most men approach it. Columnist and tech-writer Christina Tynan-Wood has attempted to come to their rescue with her book How To Be A Geek Goddess.
I really enjoy reading ebooks. I read them on my laptop and on my phone. Bookworm is a site that moves your ebook library to the web, making it available from anywhere that you have a connection to said web. They support the open ePub format.
O'Reilly announced recently that they are now hosting Bookworm. ePub is composed of three open standards ( OPS, OPF and OCF ) that allow users a great amount of flexibility without any lock-in. Bookworm allows users to upload ePub files, read them on line from a pc or mobile device and also export them to mobile devices that support ePub. Bookworm can also export directly to Stanza. Once a user has uploaded their ePub books to Bookworm, they can track progress through them even across multiple devices.
I vividly remember the first time I was able to dial up a bbs with my Commodore Vic-20. It was Star Trek themed and I was excited to see that the Sysop was online. We typed a few lines of text back and forth while I hollered to everyone in the house that I was talking to someone through the computer. Things have come a long way since then and I've put in quite a few hours experiencing one of the more exciting sides of the internet, participating in community. Of course it hasn't all been great. Communities on-line are just like any other in that there are differences of opinion and issues that arise. Some are handled well, some are not. Social interaction can be very complicated and learning how to manage a social site can be a process that involves a lot of painful lessons. Fortunately not all of our learning has to come through direct experience. Sometimes we have the opportunity to learn from the experience of others. Patrick O'Keefes book Managing Online Forums is that guide to the budding leader of the webs next great community.

The Ubuntu Pocket Guide by Keir Thomas can be purchased in dead tree form or downloaded for free as a pdf. Clicking on the title or cover pic will take you right to the page where you can get it. This page has the table of contents as well as a little more info. on the book. While I am not an Ubuntu user personally (Fedora is my preferred distro) I know there are a lot of them out there.
« Previous
1
2
3
4
5
…
8
Next »