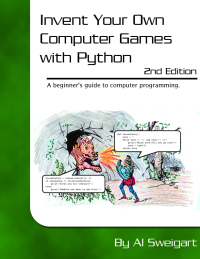 The Second Edition of Invent Your Own Computer Games with Python is available to read on-line or as a free download. This is a book that aims to teach children to use Python. The author says that it is appropriate for kids from 10 years old, on up.

I haven't read through it all. I gave the PDF version a cursory glance and it looks good. The table of contents doesn't give page numbers and there are some other rough edges, but at no cost, this is acceptable in my mind.

I do intend to read it and see how it compares to "Hello World!".

Edit: It looks like there have been some changes over at the site and so I've updated the post to reflect the title and show the cover of the book.
This is not about a book per se – but I do love all the Pragmatic Bookshelf books I've read this far, and so a free magazine available on-line from these folks is awesome. They've got downloads available for this first edition in pdf, epub and mobi formats. That is also a big win as it means I can read them on my phone. Below is text cut from the press release for the new mag.
The Pragmatic Bookshelf, the innovative publisher of award-winning books by programmers for programmers, has launched a new magazine: PragPub.
PragPub editor Michael Swaine served for years as editor-in-chief and editor-at-large for the venerable Dr. Dobb's Journal and coauthored the seminal personal computer history book, Fire in the Valley.
Michael says, "There is a huge demand for timely information on current programming issues, but conventional magazine publishing can't keep up with the pace of change in software development. There are some wonderful blogs and wikis that address particular technologies or projects, but they tend to come and go, or serve an extremely niche audience. We're hoping to strike a balance between a conventional magazine and a topical blog or wiki, capturing the benefits of professional editing and a regular publishing schedule of a magazine, and the responsiveness and sense of community of the blogs and wikis–the growing, worldwide Pragmatic community."
The July issue is now available from the Pragmatic Programmers site. PragPub is published monthly and is free of charge.
FLURB is not new. Issue number 7 is now up. But it is new to me. What I've read so far is different, but good. The text is mixed with illustrations. You can check it out and it wont cost you more than bandwidth and time.
Random House seems to be hopping into the "give the first one away free" game. The Suvudu Free Book Library is your new place to pick up the first book from some of their Scifi/Fantasy series. I saw Red Mars over there – you can't go wrong with stuff that solid. Just be prepared to fork over the cash when you want to keep going, and with the line up they have it's a slim chance you wont want to.
What do you get when you team up an astronomer/sci-fi author and the National Science Foundation? An anthology of free Astronomy Science Fiction stories. There are 14 stories in the collection that has been edited by Mike Brotherton They say, "The purpose of the anthology is to provide stories with ample and accurate astronomy spanning a range of topics covered in introductory courses." and "Fans of science fiction with good science should also enjoy these stories."

Right now the stories are all available to read on-line. There is a download tab that promises "Downloadable versions of the anthology coming soon." I hope so, this kind of thing would be perfect to have on my phone.
I really enjoy reading ebooks. I read them on my laptop and on my phone. Bookworm is a site that moves your ebook library to the web, making it available from anywhere that you have a connection to said web. They support the open ePub format.
O'Reilly announced recently that they are now hosting Bookworm. ePub is composed of three open standards ( OPS, OPF and OCF ) that allow users a great amount of flexibility without any lock-in. Bookworm allows users to upload ePub files, read them on line from a pc or mobile device and also export them to mobile devices that support ePub. Bookworm can also export directly to Stanza. Once a user has uploaded their ePub books to Bookworm, they can track progress through them even across multiple devices.

The Ubuntu Pocket Guide by Keir Thomas can be purchased in dead tree form or downloaded for free as a pdf. Clicking on the title or cover pic will take you right to the page where you can get it. This page has the table of contents as well as a little more info. on the book. While I am not an Ubuntu user personally (Fedora is my preferred distro) I know there are a lot of them out there.
The Missing Manuals series, published by O'Reilly Media, today announced the migration of its book about Wikipedia to Wikipedia. As of today, the entire contents of Wikipedia: The Missing Manual by John Broughton is available for free online for editing and updating just like any other Wikipedia entry.

I posted a review of this book last March if you are interested in more information. I think this is pretty cool.

Jame's Boyle's new book The Public Domain is available as a free download as a drm free pdf. Clicking on the picture of the cover there will take you to the download page. I haven't read it yet, but I wanted to let you know about it now and hopefully later I'll have a nice review for you. If you absolutely have to read a review of the book first, read this one by Doctorow.
This is a bit of a stretch – but here is my tenuous connection. Heinlein quotes Kipling in Starship Troopers. So if you want to read more Kipling, inspired by classic Sci-Fi, download some of Kipling's works here in html or mobi format.

The real reason I post this is just because I really like Kipling and it's my blog. I promise I wont abuse the privilege too often.
1
2
Next »