I've held jobs with small businesses and large enterprises. There are a few things that I've observed about small businesses that are probably true for many of them. The first would be that often wages for technical positions are lower than at the bigger shops, but so is the bar to entry. That often means employees have less experience. At the same time, in a smaller shop, people are often called upon to wear many hats. I spent about 5 years with one company where I was lead developer, the only DBA and the system administrator for all our Linux servers. Our team was small and all of us had complete access to pretty much everything. It was a great opportunity to learn. The one thing I never did get into too deeply was networking, things had to be pretty bad for them to pull me in on a problem in that area. When we needed to make changes to our Cisco routers we brought in a guy from outside. I wish Cisco Routers for the Small Business had been around then. I think we'd have been able to save quite a bit of money and I'd have learned quite a bit more about networking.
There is not a single person writing code in the US who is not impacted by the countries intellectual property laws. I think that it is safe to say, that not all of them have a strong understanding of just what those laws are, let alone what they mean. At the same time, there are a number of people, who may or may not be qualified, but are more than willing to share opinions and advice. Some take the time to slap a warning label on such input and IANAL is now widely understood. (I Am Not A Lawyer – Because widely does not mean everyone.) Stepping into this gap is programmer become lawyer Van Lindberg with his new book "Intellectual Property and Open Source." Lindberg has really done something special with this volume. I don't think I've ever read a tech oriented work where I've felt so convinced that I was reading something that would become a standard by which others would come to be judged.
(more…)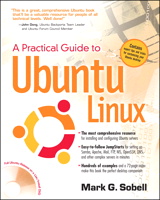 When I first started working with Linux just a short 10 years or so ago, it was a little more difficult than now to get going. I remember the difficulty I had, wrestling with my first Slackware install and getting all the floppies together to get the packages that I needed. Today, a person who has never set on eyes on Linux before can have it installed on it's own system or alongside another OS in almost no time with a very nice graphical installer walking them through the process. I also remember the hours I spent looking for the little piece of knowledge that I needed to conquer my next problem. Now, someone new to the community has a vast array of resources available on the web, or if they are inclined to begin with Ubuntu, they can literally find almost every single thing they will need in the single volume of Mark Sobell's "A Practical Guide to Ubuntu Linux."
The X Window System has been around for over twenty years and is the display system for an incredibly wide range of operating systems. With the number of Linux users growing, there are more people working with X than ever before. Most modern desktop environments provide user friendly interfaces that make modifying X rather simple. There is not so much need to dig into config files and settings as in the past but for those environments without such tools or for the user who loves to dig deep into their environment this book can be a simple way to understanding how X works and how to tweak it in any number of ways. If you want things that 'just work' and have no interest in digging around below the surface this book is not for you. On the other hand, if you think the best thing to do with a shiny new tool is to take it apart, well "X Power Tools" by Chris Tyler may be just for you.

As a dba, I'm constantly looking to learn more about networking and system administration. Both can have quite an impact on the performance of my piece of the puzzle. A welcome addition to the materials to help me learn about networking is Carla Schroder's "Linux Networking Cookbook". This book is just right for the person like myself who enjoys learning by getting hands-on experience with the technology. The scope is wide and so someone with a great depth of networking experience may find that the treatments of each is a bit shallow. On the other hand, that wide scope means this book may hold something new, even for someone with some level of experience.
(more…)