The US Army's Future Combat Systems program calls for one third of their fighting strength to be robots by 2015. The American pilots seeing the most combat in Iraq and Afghanistan right now, do so from flight consoles in the United States, and they are controlling Predator unmanned vehicles. Every branch of the U.S. military has aggressive robotics programs in place. This is not anything unusual. Other nations are also developing and purchasing robotic systems designed to be used in combat. Advances in communications, software and hardware make it inevitable that robotics will have a profound effect on conflict in the future. The development of these systems has been rapid and while technology hurtles forward, culture and understanding seem to lag behind. Similar to the way our legal codes are playing catch up with new technologies, combat enabled robots raise questions and issues that did not even exist a short time ago. Wired for War by Dr. P. W. Singer is an excellent opportunity for anyone interested to dive into just what is going on all over the world with regards to robotics and their use by the military.
The cover of SQL in a Nutshell sports a chameleon, the little lizard well known for its ability to blend in just about anywhere. This is a great choice for the Structured Query Language. SQL has been around since the seventies, helping developers interact with the ubiquitous relational database management system. Thirty some years later, SQL grinds away in the background of just about any interactive web site and nameless other technologies. New alternatives are popping up constantly but I'm going to go out on a limb and say that SQL is going to be around for a long time. Anyone interacting with an RDBMS is in all likelihood going to need to use SQL at some point. For those that do, who also want a handy desktop reference available, SQL in a Nutshell has been there for the last 9 years. The SQL language itself has not stood still over those years, and neither have the products that use SQL, and so now the book has is available in a third edition.
Princess Ruruna, of the Kingdom of Kod, has a problem. Her parents, the King and Queen, have left to travel abroad. Ruruna has been left to manage the nations fruit business. Much is at stake, Kod is known as "The Country of Fruit." Ruruna is not happy though, as she is swamped by paperwork and information overload. A mysterious book, sent by her father, contains Tico the fairy. Tico, and the supernatural book are going to help Princess Ruruna solve her problems with the power of the database. This is the setting for all that takes place in The Manga Guide to Databases. If you are like me and learned things like normalization and set operations from a rather dry text book, you may be quite entertained by the contents of this book. If you would like to teach others about creating and using relational databases and you want it to be fun, this book may be exactly what you need.
My past as a DBA probably makes me a bit biased, but the reaction I've seen the most when a database application isn't performing as well as would be liked seems to focus on the database side of things. The search for a solution usually seems to center around tuning db parameters, the building (or removal) of indexes and if the budget allows, throwing hardware at the problem. In their new work, Refactoring SQL Applications, Faroult and L'Hermite bring a much wider range of options to the table. There is a lot in this little book for the developer charged with fixing an existing application and I think a lot of good information that could save one from making a number of head-ache inducing mistakes on a new application.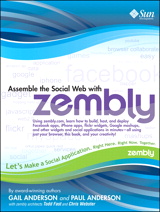 Web applications are all the rage. Web applications that function within the context of social networking sites doubly so. I think it is safe to say that pretty much anyone looking to garner a large audience on the web, for financial or any other reasons, has to be considering how they can reach people on sites like Facebook, or all those users out there accessing the web via their iPhones. Sun Microsystems has entered this arena by providing a set of web based development tools and a platform on which to host the resulting products that is now in beta and named Zembly. And while Zembly has not been open to the public for all that long, two of Zemblys architects with the help of two writers have published a new cookbook for the aspiring Zembly developer, Assemble the Social Web with Zembly.
The geek world is dominated by those of the male persuasion. For those of us working in a technology related field, or who spend a considerable amount of time pursuing high tech leisure, we usually find women to be in the minority. I've seen considerable discussion over the years on how to change this imbalance but I think it is safe to say that right now that it remains. Many women are interested in using technology, they just don't want to dive in to quite the same depth. Or they may not be interested in the way most men approach it. Columnist and tech-writer Christina Tynan-Wood has attempted to come to their rescue with her book How To Be A Geek Goddess.
I vividly remember the first time I was able to dial up a bbs with my Commodore Vic-20. It was Star Trek themed and I was excited to see that the Sysop was online. We typed a few lines of text back and forth while I hollered to everyone in the house that I was talking to someone through the computer. Things have come a long way since then and I've put in quite a few hours experiencing one of the more exciting sides of the internet, participating in community. Of course it hasn't all been great. Communities on-line are just like any other in that there are differences of opinion and issues that arise. Some are handled well, some are not. Social interaction can be very complicated and learning how to manage a social site can be a process that involves a lot of painful lessons. Fortunately not all of our learning has to come through direct experience. Sometimes we have the opportunity to learn from the experience of others. Patrick O'Keefes book Managing Online Forums is that guide to the budding leader of the webs next great community.

The Ubuntu Pocket Guide by Keir Thomas can be purchased in dead tree form or downloaded for free as a pdf. Clicking on the title or cover pic will take you right to the page where you can get it. This page has the table of contents as well as a little more info. on the book. While I am not an Ubuntu user personally (Fedora is my preferred distro) I know there are a lot of them out there.
The Missing Manuals series, published by O'Reilly Media, today announced the migration of its book about Wikipedia to Wikipedia. As of today, the entire contents of Wikipedia: The Missing Manual by John Broughton is available for free online for editing and updating just like any other Wikipedia entry.

I posted a review of this book last March if you are interested in more information. I think this is pretty cool.
Facebook became the largest worldwide social site in the middle of last year. If their current pace holds they will pass MySpace as number one in the U.S. some time next year. Those numbers have led a number of people to strike out and develop Facebook applications, hoping to grab a piece of that huge audience. One aspect of writing such applications is knowing Facebook Markup Language, which has been described as the icing on the Facebook API cake. FBML Essentials aims to be the resource that provides hopeful app writers with what they need to use FBML successfully.
« Previous
1
2
3
Next »