It has been ten years since David Beazley wrote the first edition of Python Essential Reference. The book has proven itself as a valuable resource to Python developers and has been kept current over those ten years, with the fourth edition coming at an interesting time for Python. Python 3 was a major release that broke backwards compatibility. Python 3 has been around for a year now. That said, the current download page at the official Python site states, "If you don't know which version to use, start with Python 2.6.4; more existing third party software is compatible with Python 2 than Python 3 right now." Beazley in keeping with the pragmatic roots of a reference that sticks to what is 'essential' has removed the coverage on features from 2 that were removed from 3. At the same time, the primary focus for new features that came with 3 is limited to those that have been back-ported to 2. This approach, born out of a desire to keep the reference relevant, provides a blended approach that is above all else practical.
It is pretty obvious to anyone paying attention that the growing prevalence of mobile technologies is something that cannot be ignored. A special report in the Economist on telecoms in emerging markets wrapped up with the prediction, "…at current rates of growth it seems likely that within five years, and certainly within ten, everyone in the world who wants a mobile phone will probably have one. 3G networks capable of broadband speeds will be widespread even in developing countries, and even faster 4G networks will be spreading rapidly in some places." It does not appear that it will be long before Smart Phones are just normal phones and anyone who wants to be, will be connected to a world wide mobile network. Any business or developer that wants to reach groups of significant size really needs to be prepared via mobile platforms. Brian Fling has been helping others operate in this space for close to a decade and is very familiar with the lay of the land. He sees the opportunities and has experienced the pitfalls and frustrations as well. His new book, Mobile Design and Development brings some of that experience and knowledge to the mobile neophyte, looking for an overview of just how to get in the game.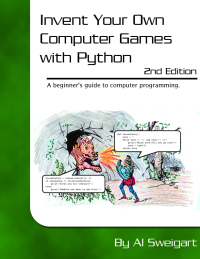 The Second Edition of Invent Your Own Computer Games with Python is available to read on-line or as a free download. This is a book that aims to teach children to use Python. The author says that it is appropriate for kids from 10 years old, on up.

I haven't read through it all. I gave the PDF version a cursory glance and it looks good. The table of contents doesn't give page numbers and there are some other rough edges, but at no cost, this is acceptable in my mind.

I do intend to read it and see how it compares to "Hello World!".

Edit: It looks like there have been some changes over at the site and so I've updated the post to reflect the title and show the cover of the book.
Google's mobile OS Android has received plenty of press. As with a lot of Google products, there was much anticipation before any devices were even available. Now a number of phones are available, with many more coming out world-wide in the near future. Part of the lure of Android is the openness of the platform and the freely available tools for development. The SDK and accompanying Eclipse plug-in give the would be creator of the next great Android application everything they need to make their idea reality. The bar to entry in the official Google Android Marketplace is very low and it doesn't seem to be much of a stretch to predict that the number of developers working on Android is only going to grow. As with any hot technology the number of books will grow as well and O'Reilly's Android Application Development has jumped into the fray, promising to help budding Android developers what they need to get started.
Rich Internet Applications (RIA) have often been associated with some type of sandbox or virtual machine environment to make desktop features available via the web. Many applications though, have left behind the restrictions and demands of those technologies, implementing RIAs as pure web interfaces. One key technology in this area is JavaScript. It's been well documented that working with JavaScript can be problematic across various browsers. In response a number of JavaScript libraries have been created to alleviate the issues in dealing with different browsers, allowing developers to focus on application logic rather than platform concerns. One such library, focused on providing tools for building RIAs is Ext JS. For the aspiring developer looking to use Ext JS, Packt provides a guide to the library in the form of Learning Ext JS
This is not about a book per se – but I do love all the Pragmatic Bookshelf books I've read this far, and so a free magazine available on-line from these folks is awesome. They've got downloads available for this first edition in pdf, epub and mobi formats. That is also a big win as it means I can read them on my phone. Below is text cut from the press release for the new mag.
The Pragmatic Bookshelf, the innovative publisher of award-winning books by programmers for programmers, has launched a new magazine: PragPub.
PragPub editor Michael Swaine served for years as editor-in-chief and editor-at-large for the venerable Dr. Dobb's Journal and coauthored the seminal personal computer history book, Fire in the Valley.
Michael says, "There is a huge demand for timely information on current programming issues, but conventional magazine publishing can't keep up with the pace of change in software development. There are some wonderful blogs and wikis that address particular technologies or projects, but they tend to come and go, or serve an extremely niche audience. We're hoping to strike a balance between a conventional magazine and a topical blog or wiki, capturing the benefits of professional editing and a regular publishing schedule of a magazine, and the responsiveness and sense of community of the blogs and wikis–the growing, worldwide Pragmatic community."
The July issue is now available from the Pragmatic Programmers site. PragPub is published monthly and is free of charge.
Hitting middle age has been an interesting time. I catch myself thinking about how well kids have it today and sounding a lot like my father. One difference is while my dad was happy to teach me about sports or cars, we never spent any time knocking out code together. I think he did realize that home computers were important and I will always be grateful for the Commodore Vic-20 be brought home one day. It was a substantial purchase for our household. I spent many days copying lines of basic from magazines and saving the results to cassette tapes. In my home today we have a considerably better situation, computing wise. There are usually a couple laptops running as well as the desktop machine upstairs. My kids take for granted what I found to be amazing and new. Still, that's all pretty normal and I'd like to give them an opportunity to go deeper if they are so inclined, just like we give them opportunities to explore other skills and pursuits. With that in mind I brought a copy of Hello World! home a few weeks ago, and the response from my oldest has been surprisingly enthusiastic.
The end of last year I made a move from an IT shop focused on supporting the U.S. side of our business to a department that provides support to our operations outside the U.S. This was the first time I've worked in an international context and found myself running into long time assumptions that were no longer true on a regular basis. My first project was implementing a third party, web based HR system for medium sized offices. I found myself constantly missing important issues because I had such a narrow approach to the problem space. Sure I've built applications and databases that supported Unicode, but I've never actually implemented anything with them but the same types of systems I'd built in the past with ASCII. But a large portion of the worlds population is in Asia, and ASCII is certainly not going to cut it there. Fortunately a new edition of Ken Lunde's classic CJKV Information Processing has become available and it has really opened my eyes.
My past as a DBA probably makes me a bit biased, but the reaction I've seen the most when a database application isn't performing as well as would be liked seems to focus on the database side of things. The search for a solution usually seems to center around tuning db parameters, the building (or removal) of indexes and if the budget allows, throwing hardware at the problem. In their new work, Refactoring SQL Applications, Faroult and L'Hermite bring a much wider range of options to the table. There is a lot in this little book for the developer charged with fixing an existing application and I think a lot of good information that could save one from making a number of head-ache inducing mistakes on a new application.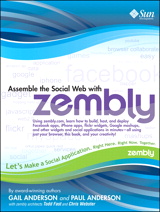 Web applications are all the rage. Web applications that function within the context of social networking sites doubly so. I think it is safe to say that pretty much anyone looking to garner a large audience on the web, for financial or any other reasons, has to be considering how they can reach people on sites like Facebook, or all those users out there accessing the web via their iPhones. Sun Microsystems has entered this arena by providing a set of web based development tools and a platform on which to host the resulting products that is now in beta and named Zembly. And while Zembly has not been open to the public for all that long, two of Zemblys architects with the help of two writers have published a new cookbook for the aspiring Zembly developer, Assemble the Social Web with Zembly.
1
2
Next »