Microblogging service Twitter has undeniably been a hit, with growth rates that were at times in excess of 1400%. The growth was rapid enough that the site became well know for its periodic and at times extensive downtime. Even with these issues, the service continued to grow rapidly, and with celebrities getting into the mix Twitter was quickly on the radar of mainstream media. The ubiquity of twitter and ever increasing coverage of 'tweets' has also brought the inevitable backlash. As with anything that gains high profile popularity there are plenty of Twitter haters out there, though the role that Twitter has played in the recent Iranian elections seems to have brought more legitimacy to Twitter in the eyes of many. With popularity come books and quite a few are already out there about and for twitter, but my favorite so far is The Twitter Book by Tim O'Reilly and Sarah Milstein.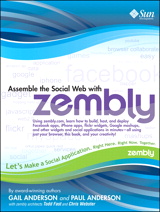 Web applications are all the rage. Web applications that function within the context of social networking sites doubly so. I think it is safe to say that pretty much anyone looking to garner a large audience on the web, for financial or any other reasons, has to be considering how they can reach people on sites like Facebook, or all those users out there accessing the web via their iPhones. Sun Microsystems has entered this arena by providing a set of web based development tools and a platform on which to host the resulting products that is now in beta and named Zembly. And while Zembly has not been open to the public for all that long, two of Zemblys architects with the help of two writers have published a new cookbook for the aspiring Zembly developer, Assemble the Social Web with Zembly.
I vividly remember the first time I was able to dial up a bbs with my Commodore Vic-20. It was Star Trek themed and I was excited to see that the Sysop was online. We typed a few lines of text back and forth while I hollered to everyone in the house that I was talking to someone through the computer. Things have come a long way since then and I've put in quite a few hours experiencing one of the more exciting sides of the internet, participating in community. Of course it hasn't all been great. Communities on-line are just like any other in that there are differences of opinion and issues that arise. Some are handled well, some are not. Social interaction can be very complicated and learning how to manage a social site can be a process that involves a lot of painful lessons. Fortunately not all of our learning has to come through direct experience. Sometimes we have the opportunity to learn from the experience of others. Patrick O'Keefes book Managing Online Forums is that guide to the budding leader of the webs next great community.
The Missing Manuals series, published by O'Reilly Media, today announced the migration of its book about Wikipedia to Wikipedia. As of today, the entire contents of Wikipedia: The Missing Manual by John Broughton is available for free online for editing and updating just like any other Wikipedia entry.

I posted a review of this book last March if you are interested in more information. I think this is pretty cool.
Facebook became the largest worldwide social site in the middle of last year. If their current pace holds they will pass MySpace as number one in the U.S. some time next year. Those numbers have led a number of people to strike out and develop Facebook applications, hoping to grab a piece of that huge audience. One aspect of writing such applications is knowing Facebook Markup Language, which has been described as the icing on the Facebook API cake. FBML Essentials aims to be the resource that provides hopeful app writers with what they need to use FBML successfully.
Twitter, the home of microblogging is now also the home of microfiction. The first @thaumatrope presents speculative fiction in a 140 characters or less. When taking submissions thaumatrope pays $1.20 for each that is accepted. A new player launching on January 14th is @Outshine. They bill themselves as a twitterzine for "optimistic, near future prose poems." and they pay $5 per accepted submission.

This is not a book review per se – but I've found thaumatrope to be very entertaining and have high hopes for Outshine. Just one more place for those who love to read to get a little fix.

Jame's Boyle's new book The Public Domain is available as a free download as a drm free pdf. Clicking on the picture of the cover there will take you to the download page. I haven't read it yet, but I wanted to let you know about it now and hopefully later I'll have a nice review for you. If you absolutely have to read a review of the book first, read this one by Doctorow.
Tor has launched their new social, sci-fi, fantasy and much more, blogging, new fiction, super duper site. Right now there are 2 short stories up and available to read/download. They are "After The Coup" by John Scalzi, and "Down On The Farm" by Charles Stross. Both in worlds developed by the authors in full novels. Scalzi's story is in the Old Man's War universe and is a great read. Stross's story is from his "Laundry" stories, which I don't know but I liked this story. Nice mix of magic, math and computing.

On top of all that, for a limited time every ebook and piece of art they made available during their promotional period leading up to the launch of the site are all available right here. Every book is available in multiple drm free formats. I've read 3 so far and loved all 3. I'm working on my fourth now. There are over 20 total and so I'll have lots of fun stuff to read for some time.

If they stick with what it says in the post – all this will no longer be available 7 days from now. They will shut it all down after the 27th. The artwork is also amazing and available in a wide number of sizes. This is when the Down Them All plugin for firefox really comes in handy. Right-Click, Save As just wont cut it for this much awesome stuff.
It doesn't seem like it has been 3 years since the Mambo dev team split and a new content management system, Joomla! was born. Over the last few years Joomla has grown to be very popular and has very strong developer and user communities. Joomla is extremely flexible and a wide array of extensions exist that allow the system to provide many different capabilities. In "Joomla! A User's Guide", Barrie North provides everything needed to get anyone up and running with a Joomla based site, even if they have little or no experience with creating web sites or applications.
Much like anyone else who spends a decent amount of time on the internet, I find myself turning to Wikipedia quite regularly. I am unaware of any resource as thorough or as quick for many of my information needs (or whims) on a day to day basis. Detractors point out that anyone can edit Wikipedia and this can lead to inaccurate information. For me, the open editing is one of the draws. I've been reading Wikipedia for some time, and each time I find myself thinking that it would be fun to be more than a passive consumer. There are a few topics where I might be able contribute in a meaningful way. A brand new addition to the O'Reilly Missing Manual series, "Facebook The Missing Manual" was the last nudge to push me into full involvement.
1
2
Next »