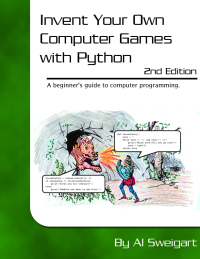 The Second Edition of Invent Your Own Computer Games with Python is available to read on-line or as a free download. This is a book that aims to teach children to use Python. The author says that it is appropriate for kids from 10 years old, on up.

I haven't read through it all. I gave the PDF version a cursory glance and it looks good. The table of contents doesn't give page numbers and there are some other rough edges, but at no cost, this is acceptable in my mind.

I do intend to read it and see how it compares to "Hello World!".

Edit: It looks like there have been some changes over at the site and so I've updated the post to reflect the title and show the cover of the book.
The Homeless Moon is the web site of 5 writers, Michael J. DeLuca, Jason S. Ridler, Scott H. Andrews, Erin Hoffman and Justin Howe. They have put together a chapbook of fun short stories that they have made available to order or download for free.